Structured cabling and Wi-Fi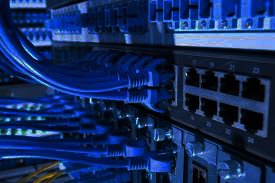 With the evolution of IoT, the number of devices getting connected to the internet is growing faster than ever before this year. It is predicted that end of this decade trillions of devices will get connected to the internet. As part of meeting IoT requirements, the network infrastructure should be increased tenfold than already been set up. This massive requirement can be met through efficient and qualified technical experts.
What Is Structured Cabling?
Technology is constantly evolving and changing, sometimes faster than you could ever guess. New tools can make businesses more productive, secure, and agile. However, these tools need the right network to
support them.
Structured cabling is an infrastructure that's made up of smaller, standardized elements. You can install structured cabling systems in a building or across a campus. It should be such a kind of network cabling that can support all of the rapidly advancing technology coming to the workplace.
Since the advent of personal computers, the introduction of laptops and VoIP calling systems, the demand for a business's cable network has only grown. In the past, point-to-point cabling was used, which meant every piece of hardware used its own cable. The cabling literally ran from point to point. This would lead to a jumbled mess of wiring and cables that could be accidentally unplugged or present a safety hazard for tripping.
To accommodate the rising need for speed and more bandwidth, structured cabling systems came into use and are now the best solution for a business's network. Structured cabling systems are a kind of network cabling solution that organizes your infrastructure. The beauty of structured cabling is that it helps to future-proof your
business by accommodating any new hardware you add while supporting the increasing amount of data businesses use every day. It makes things much easier to manage as your business grows! To help you understand structured cabling systems, we're taking a deep dive into what they are, how they work, and how you can use structured cabling systems at your business to maximize your ROI.
Cabling & Wifi Installation
Good network design is essential to deliver efficient I.T. systems which assist your business to grow and develop without lost hours due to downtime and delays.
Structured cabling solutions of TechLab cover all aspects of cable design, installation, management, and integration into existing business systems. With over 20 years of experience, our professional cable installers have worked on everything from single-site office spaces to challenging outdoor installations and are trained and accredited to the highest standards. 
TechLab uses the industry's leading wireless LAN technology which enables us to provide our customers with WLAN solutions that are custom-built to deliver the most robust and reliable networks possible. Whether you are looking to facilitate better voice, data, video, location-based services, or all of the above, we have a wireless solution to deliver on your strategic requirement.
● CAT5, CAT6, CAT6a, Fibre & more
● Certificated 25-year guarantee
● Qualified engineers
● Certified Cable Installation
● Public & Private Wifi Installs
● Public WiFi security
● Point to Point Installations